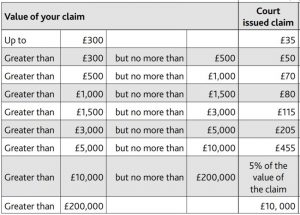 We can help you to recover monies owed by drafting, on your behalf, late payment letters to your debtor, leading to a final letter before claim. If your debt is still outstanding upon 7-14 days after sending a letter before claim, we can take the next step and issue proceedings in the relevant court in the UK against the debtor. For low value claims of up to £10,000, proceedings are issued in the county court on the small claims track. Claims for greater than £10,000 are issued in the high court on the fast or multi-track.
Issuing proceedings involves drafting a claim form and detailed particulars of claim, which will in most circumstances mirror the letter before claim. The fees for issuing claims are set out as follows:
An important point to note is that you can only claim certain minimal costs against your debtor if you win, in the county court. These are known as "fixed costs" and are provided for by the Civil Procedure Rules. They include the court fee and you can claim back your travel to court to attend a hearing if this is required, but they do not include your solicitors' charges. On the fast track, fixed trial costs may be recovered and any additional costs recovery is likely to be limited. On the multi-track as a general rule 2/3rds of the costs may be recovered by the successful party.
Please get in touch with us if you would like our assistance with recovering debt due to you or your company.
We also offer an insolvency service for clients wishing to wind up their UK-based business.